Published on:
Non-Opioid Pain Relief Options For Elderly Patients
Authors

Name

Twitter
As we age, pain can become a part of our daily lives. This can be especially true for elderly patients who may have more than one chronic health condition or injury.
Pain medications like opioids can provide short-term relief, but they come with risks and long-term effects that could affect an older person's quality of life.
Fortunately, there are other non-opioid options available to help manage the pain experienced by seniors. In this article, we'll discuss the various types of non-opioid treatments available so that you or your loved ones can make an informed decision about managing their chronic pain in a safe and effective way.
Table of Contents
Non-Steroidal Anti-Inflammatory Drugs
Non-steroidal anti-inflammatory drugs (NSAIDs) are a great way to reduce pain and inflammation for elderly patients. They work by blocking the production of prostaglandins, which cause both swelling and pain. NSAIDs can be taken orally or topically depending on the severity of the discomfort. Popular choices include ibuprofen, naproxen sodium, aspirin, and celecoxib.
Cold therapy is another effective form of non-opioid relief for elderly patients. It helps reduce inflammation around painful joints by causing constriction in blood vessels that supply those areas with oxygenated blood.
Electrical stimulation has also been found to help relieve chronic pain through nerve conduction blockage. This method sends electrical pulses directly onto nerves to prevent them from sending their signals to other parts of the body where they would otherwise cause discomfort.
Both cold therapy and electrical stimulation should always be used under the guidance of a healthcare professional as there are potential risks involved when using these treatments. With an experienced clinician's assistance, however, elderly patients can find much needed relief without relying on opioids.
Acupuncture
Pain is an unavoidable part of life, but that doesn't mean it has to be something we endure without doing anything about it.
One potential solution for elderly patients who are looking for non-opioid pain relief options is the ancient practice of acupuncture.
As a form of integrative medicine, acupuncture seeks to treat physical ailments by recognizing and treating the mind body connection between psychological and physical stressors.
It's been used in traditional Chinese medicine for centuries—treating everything from headaches to chronic pain.
The process involves placing extremely thin needles into specific points on the skin that are connected with particular organs or energy locations in order to promote healing and balance within your body.
During treatment, you may also experience gentle massage, heat therapy, stretching exercises, herbal remedies, or other forms of complementary therapies designed to improve overall wellbeing and health.
Acupuncture can help reduce inflammation associated with aging as well as provide relaxation necessary for proper recovery from injury or surgery.
To put it simply: there's no one-size-fits-all approach when it comes to easing discomfort among older adults; however, acupuncture could just be the key to unlocking relief from pain naturally.
Massage Therapy
Acupuncture is a traditional Chinese medicine practice that can provide relief from chronic pain, but it isn't the only option.
Massage therapy is another safe and effective way for elderly patients to find relief from their pain without relying on opioid medications.
Massage therapy helps reduce tension in muscles, encourages relaxation and improves circulation.
It may also help to increase range of motion and improve posture.
For elderly patients who want even more options for non-opioid pain relief, there are additional activities they can explore:
Taking yoga classes – Yoga can be low impact and calming while helping build strength and flexibility.

Trying heat therapy – This could include using hot or cold packs, taking warm baths or using infrared saunas to relax sore muscles and joints.

Practicing deep breathing exercises - Deep breathing helps promote relaxation which reduces stress hormones associated with pain perception.

Doing regular stretching – Stretching every day increases blood flow throughout the body and helps keep joints flexible.
These activities combined with massage therapy give elderly patients an array of options for managing their pain without opioids so they can maintain an active lifestyle despite age-related aches and pains.
Cognitive Behavioral Therapy
CBT is a great way to address chronic pain, and can be especially beneficial for elderly patients. It can be used as an alternative to more traditional methods of pain relief, such as opioids, for those looking for a more holistic approach.
Cbt For Chronic Pain
It can be so challenging for elderly patients dealing with chronic pain, but Cognitive Behavioral Therapy (CBT) is a great non-opioid option.
Meditation techniques and heat therapy are two cornerstones of CBT that have been proven to reduce the impact of chronic pain.
In fact, studies show that these simple practices can help improve mental wellbeing and even lessen physical symptoms.
As your personal pain coach, I'd encourage you to set aside a bit of time each day to meditate or try out some light heat therapy – both will make a positive difference in how you're feeling!
So why not give it a go? You've got nothing to lose and everything to gain!
Cbt For Elderly Patients
It's great to see more elderly patients exploring the potential of Cognitive Behavioral Therapy (CBT) as a way to manage chronic pain.
Taking part in yoga classes and biofeedback techniques can help you relax and stay positive, while also providing tangible results when it comes to reducing your pain levels – that's something I've seen time and time again!
So why not give these activities a try? You have nothing to lose and everything to gain from incorporating them into your daily routine.
Exercise And Physical Therapy
Exercise and physical therapy are a powerful remedy for relieving pain in elderly patients. They can be thought of as an elixir that helps to restore balance both mentally and physically.
Yoga classes, hydrotherapy pools, and other therapeutic activities offer a safe way to ease tension associated with chronic pain while simultaneously building strength and mobility. Not only do these activities help reduce stress hormones, they also encourage seniors to stay active in ways that work within their individual capacity.
Whether it's simply going on walks or taking part in water aerobics at the local pool, there is something available for every fitness level. With regular practice, these exercises can improve flexibility and range of motion while providing much needed relaxation from persistent aches and pains.
Elderly adults who pursue exercise and physical therapy will quickly find themselves living more comfortably with tangible results along the way – improved posture, better breathing patterns, increased endurance, enhanced mood stability – all leading towards a healthier outlook on life despite existing chronic conditions.
Frequently Asked Questions
What Are The Potential Side Effects Of Using Non-Opioid Pain Relief Options For Elderly Patients?
When it comes to managing pain in the elderly, non-opioid options such as dietary changes and stress management can be very beneficial.
However, these types of treatments do come with some potential side effects that you should be aware of.
For example, a change in diet may cause digestive issues or other health problems while high levels of stress can lead to anxiety and depression.
It's important for seniors to speak with their doctor before trying any new treatment plan so they know what to expect and how to deal with any potential side effects.
How Often Should Elderly Patients Use Non-Opioid Pain Relief Options?
Studies show that almost two-thirds of elderly Americans suffer from chronic pain, making it important to find effective non-opioid treatments.
As a Pain Coach, I often advise my patients to use alternative therapies and lifestyle modifications for their long term relief.
But how often should these methods be used?
Generally speaking, the frequency with which an elderly patient utilizes non-opioid pain relief options will depend on his or her individual circumstances.
However, as a general rule of thumb, elderly patients should consider using these alternatives at least twice per day for optimal results.
Are There Any Contraindications For Elderly Patients Using Non-Opioid Pain Relief Options?
Exploring alternatives to opioid-based pain relief for elderly patients is certainly important, especially since accessibility concerns can be a factor.
However, it's also essential to consider any contraindications that may arise when using non-opioid options.
As a pain coach, I recommend consulting with your health care provider before introducing these treatments into your regimen, as they are best equipped to identify possible risks and provide guidance on the safest path forward.
How Long Does It Usually Take For Non-Opioid Pain Relief Options To Provide Relief?
Sometimes it can feel like a 'dark cloud' when managing pain as an elderly patient, but don't despair!
Non-opioid pain relief options have been shown to provide therapeutic benefits without the risk of addiction.
Generally speaking, these non-addictive alternatives will begin providing some level of relief within about 30 minutes or so.
However, this time frame may vary depending on individual factors and the type of medication being used.
Are There Any Potential Risks Associated With Using Non-Opioid Pain Relief Options For Elderly Patients?
When considering using non-opioid pain relief options for elderly patients, it's important to be aware of potential risks.
Alternative therapies and lifestyle changes could be beneficial in relieving chronic pain or discomfort, but they are not without their dangers. For example, certain types of therapy may cause muscle soreness that can be difficult for older individuals to tolerate.
There is also a risk of falls and other related injuries if the patient does not have adequate support during exercise routines.
Lastly, some alternative treatments may interact with current medical conditions or medications, creating additional health concerns.
As a Pain Coach I recommend discussing any possible risks associated with these methods before beginning treatment.
Conclusion
It is clear that non-opioid pain relief options are a great way to manage chronic or acute pain in elderly patients without the risk of addiction. While there may be some potential side effects, contraindications and risks associated with these treatments, they can still provide long lasting relief when used appropriately.
As a Pain Coach it's important for me to help my clients find the right balance between managing their pain while avoiding any unnecessary risks. After all, prevention is always better than cure!
When it comes to using non-opioid pain relief options for elderly patients, I advise them to start gradually and use short term treatments such as heat therapy or acupuncture if possible before opting for more aggressive medications.
Ultimately, we must remember that age should not be an obstacle when seeking effective treatment for our pain. With proper guidance from a healthcare professional and careful consideration of potential side effects and risks involved, elderly patients can take advantage of safe non-opioid alternatives without sacrificing their quality of life.
As the old adage goes 'An ounce of prevention is worth a pound of cure'.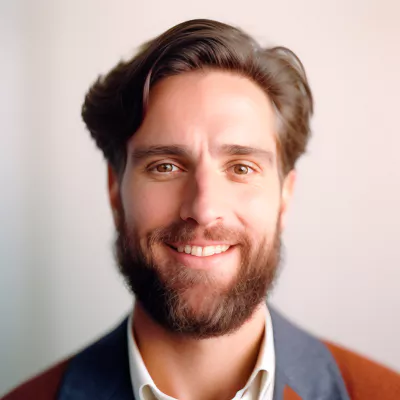 Leo Haynes is a dedicated pain coach with a unique approach to managing chronic pain. While he doesn't come from a traditional healthcare background, his expertise in pain management stems from personal experiences and an unyielding drive to self-educate on pain relief methods.
The advice and insights provided by Leo Haynes are based on his personal experiences and self-education. They should not replace professional medical advice or treatments. Always consult with a healthcare professional before making changes to any pain management regimen.