Published on:
Breaking The Cycle Of Negative Emotions And Chronic Pain
Authors

Name

Twitter
Are you struggling to break the cycle of negative emotions and chronic pain? You're not alone.
Many people experience debilitating physical symptoms due to unresolved emotional issues, leading to a vicious cycle of distress.
But it doesn't have to be this way! As your pain coach, I'm here to help you regain control over your life by breaking this damaging pattern and finding relief from chronic pain.
In this article, I'll show you how to achieve lasting freedom from your physical discomfort and mental anguish.
So let's get started!
Table of Contents
Understanding The Connection Between Emotions And Pain
Living with chronic pain can be a taxing experience, often leading to feelings of frustration and hopelessness. But it doesn't have to be that way – there are ways to break the cycle of negative emotions and pain.
Becoming aware of the connection between your emotions and your physical health is an important first step in doing so. By recognizing triggers for your emotional reactions, you can begin to better understand how they contribute to your overall wellbeing.
This understanding will open the door to creating effective coping strategies tailored specifically towards those who struggle with emotional-related pain. Finding new outlets for managing these difficult times is key in developing healthier habits and attitudes, ultimately helping you create a life free from suffering for yourself.
Identifying Your Negative Emotions
As we explored in the previous section, there is a clear connection between emotions and pain. It's important to recognize that when you are feeling overwhelmed with negative emotions, it can trigger physical pain. In order to break this cycle of chronic pain, it is essential to identify your emotional triggers and learn how to manage stress.
The first step towards achieving this goal is by being aware of which feelings have been causing you distress. Ask yourself: Is my current state of mind due to sadness or anxiety? Do I feel angry about something? Once you know what kind of emotion(s) is affecting you, take some time for self-reflection and figure out the root cause behind them.
Here are four key points worth considering:
Acknowledge that whatever emotions arise are valid; try not to downplay or ignore them.
Identify any recurring patterns in your thoughts and behavior related to these emotions.
Explore productive ways of managing stress like practicing relaxation techniques such as yoga or mindfulness meditation.
Set realistic goals for yourself so that you do not become overwhelmed—it will help build resilience over time!
By understanding your negative emotions better, you can create positive changes in both your mental health and physical wellbeing. Taking steps to address underlying issues will ultimately lead to improved quality of life and more fulfilling relationships with those around you.
Practicing Mindfulness And Self-Compassion
Mindfulness and self-compassion are powerful tools for breaking the cycle of negative emotions and chronic pain. It can be a challenge to cultivate these practices since they require us to take time out of our busy days to focus on ourselves, but it's worth the effort!
Learning mindfulness helps us become more aware of our thoughts and feelings, which in turn allows us to gain insight into how we react emotionally in different situations. With this knowledge, we can make conscious decisions about how we want to respond rather than getting caught up in destructive patterns.
On top of that, practicing self-compassion helps build resilience by nurturing unconditional acceptance of ourselves - even when things aren't going well or life is challenging. Cultivating self love means treating yourself with kindness, understanding, and gentleness instead of punishing yourself for mistakes or shortcomings. This makes it easier to move forward with strength and courage despite any difficulties you may face.
By taking small steps each day towards developing a mindful attitude as well as increasing your level of self compassion, you will be able to break the cycle of negative emotions and chronic pain while building resilience and cultivating self love at the same time. Doing so not only has positive effects on your mental health but also improves physical wellbeing too; making it an invaluable gift you can give yourself!
Learning Relaxation Techniques
It can be exhausting to continuously deal with negative emotions and chronic pain. But don't despair; there are ways to break the cycle.
Learning relaxation techniques is a great place to start. Through relaxation breathing, positive affirmations, and other strategies, you can begin to take control of your emotions and lessen physical discomfort.
Relaxation breathing helps reduce tension in the body by focusing on slow, deep breaths that promote calmness. Positive affirmations are also helpful when it comes to changing how we think about ourselves and our circumstances — they provide encouragement during difficult times or help us recognize our strengths more fully.
Additionally, activities like yoga and meditation can both relax the mind and body while providing an opportunity for self-reflection. By taking time each day for these practices, you will soon find yourself feeling lighter overall as well as experiencing less stress-related pain.
Seeking Professional Help
When dealing with chronic pain, it's important to remember that you don't have to go through this alone. Seeking support from a professional can be incredibly beneficial in helping you break the cycle of negative emotions and manage your expectations regarding the process of healing.
There are many professionals who specialize in working with people going through different forms of physical or mental health challenges. It is important to find someone who can provide guidance and tools specifically tailored for managing chronic pain.
Here are some ways to get started:
Talk to your primary care physician about referrals for specialists like psychologists, psychiatrists, neurologists, and/or physical therapists.

Ask family members and friends if they know of any good practitioners near you.

Research online resources such as local medical centers or clinics offering counseling services related to chronic pain management.

Take advantage of free helplines offered by various organizations dedicated to providing help and advice on how best to cope with chronic conditions.
Remember that seeking professional help can open up new opportunities for learning more effective strategies on how to deal with both emotional and physical aspects of living with chronic pain. With the right kind of assistance and support, it is possible not only to lessen discomfort but also gain insight into what underlying issues may be contributing towards your condition so that these too can be addressed appropriately.
Frequently Asked Questions
What Are The Long-Term Benefits Of Breaking The Cycle Of Negative Emotions And Chronic Pain?
Imagine living a life free from the relentless cycle of negative emotions and chronic pain.
The long-term benefits are beyond what one could ever imagine – you can finally break through those mental blocks and unlock an entirely new world of alternative methods to relieve your suffering!
As a pain coach, I've seen firsthand how incredible it is when someone breaks this vicious cycle.
They discover newfound strength, resilience, and hope that brings about positive transformation in their lives.
It's truly remarkable; nothing short of miraculous!
How Long Will It Take To Break This Cycle?
Breaking the cycle of negative emotions and chronic pain can be a daunting task. But with mindful breathing, positive affirmations, and other techniques, you can break this cycle and start to feel relief.
How long it will take depends on the individual's commitment to making changes in their life. However, generally speaking, results can be seen within weeks if you stick with the program and practice regularly.
Is It Possible To Break The Cycle Without Professional Help?
Are you struggling to break the cycle of negative emotions and chronic pain without professional help? If so, don't worry - it is possible!
With mindfulness techniques and stress relief, anyone can learn how to take control of their own feelings. As a pain coach, I have seen many people achieve this with focus and dedication.
It may seem overwhelming at first, but together we can create an actionable plan that will empower you to break free from your struggles.
Are There Any Physical Exercises I Can Do To Help Me Cope With My Negative Emotions?
Are there any physical exercises you can do to help cope with negative emotions?
Yes! Mindful breathing and positive affirmations are both simple yet effective methods for reducing stress and improving your emotional wellbeing.
Taking a few minutes each day to focus on your breathing pattern, or repeating some positive mantras in your head, can go a long way towards lifting your mood and helping break the cycle of negative thoughts and feelings.
As a pain coach I recommend incorporating these exercises into your daily routine if you're looking to benefit from their calming effects.
Are There Any Foods I Should Avoid Or Consume More Of To Help Manage My Chronic Pain?
Mindful eating and making dietary changes can be an effective way to manage chronic pain.
To start, it's important to become aware of the foods you are consuming and how they may affect your body.
Certain food items like processed grains, sugars, dairy products, and fried foods should be avoided as much as possible since they can increase inflammation in the body.
On the other hand, adding more fruits and vegetables into your diet is a great way to get essential vitamins and minerals that have anti-inflammatory properties.
Lastly, drinking plenty of water throughout the day can help flush out toxins from the body which also aids with reducing pain levels.
Conclusion
It's no secret that negative emotions and chronic pain can take a toll on your mental health. Fortunately, there are steps you can take to break the cycle of negativity and gain control over your life again. It may not happen overnight, but with dedication and persistence it is possible to overcome these challenges.
No matter how overwhelmed or hopeless you might feel right now, I'm here to tell you that there is hope!
Taking small yet consistent steps towards breaking the cycle of negative emotions and chronic pain will pay off in the long run. For instance, physical activity helps reduce stress levels while also boosting endorphins which help combat depression and anxiety. Additionally, avoiding certain foods such as processed sugar or caffeine can go a long way in managing painful flare-ups associated with chronic conditions like fibromyalgia or arthritis.
You don't have to do this alone either—reaching out for professional help can make all the difference when it comes to making positive changes in your life.
And remember: even if progress feels slow at times, every step forward matters! So keep going—you got this!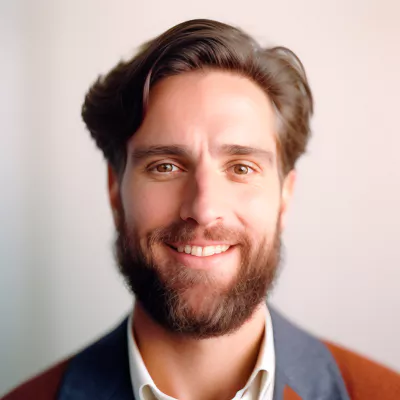 Leo Haynes is a dedicated pain coach with a unique approach to managing chronic pain. While he doesn't come from a traditional healthcare background, his expertise in pain management stems from personal experiences and an unyielding drive to self-educate on pain relief methods.
The advice and insights provided by Leo Haynes are based on his personal experiences and self-education. They should not replace professional medical advice or treatments. Always consult with a healthcare professional before making changes to any pain management regimen.